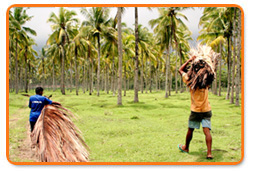 Farmers in West Java, Indonesia
Sue Useem is the director and producer of Spotted Frog Productions. The company was founded in 2006 when Sue traveled to Indonesia, armed with a camera, microphone, tripod – and a lot of questions. Along the way, after countless interviews with all members of society, she stumbled into the story of Fabianus Tibo, who was executed for his alleged role in a communal conflict in remote Poso, Central Sulawesi. Taken with Tibo's story, Sue directed, produced, wrote, and edited the award-winning "Which Way to the War?," an investigative feature length documentary about the conflict raging in Central Sulawesi.
In addition to her role as an award-winning filmmaker, Sue worked as a producer and broadcaster for the Indonesian Service at the Voice of America (VOA) in Washington, D.C. for five years.
Spotted Frog Productions has worked in Indonesia, Nepal, Senegal, and the United States. Under the direction of Sue Useem, we focus on producing cutting-edge documentaries that bring unknown stories to the screen, while employing a diverse and talented group of media and film specialists.
Archives of Spotted Frog's stock footage can be found here. Hundreds of clients have used our affordable SD and HD royalty-free footage in their productions, including Animal Planet, Geographic Expeditions, National Geographic Society, Wharton Business School, and Voice of America.